About
Santa Barbara Glow in the Park
This bucket-list experience and field dinner is a balloon glow fundraiser at Eling's Park to benefit Doctors Without Walls - Santa Barbara Street Medicine. DWW-SBSM is dedicated to providing free, volunteer medical care for the most vulnerable of Santa Barbara County, when and where they are in need, including in times of disaster, and to provide education and training for DWW-SBSM volunteers and others, in order to promote the excellent practice of humanitarian medicine in our hometown and elsewhere.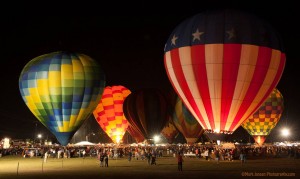 Glow in the Park opens with a VIP Welcome Reception for sponsors, followed by a gourmet field dinner and the illumination of hot air balloons at sunset. This festive event will feature the best food and drink of Santa Barbara's late summer harvest. Guests will enjoy great food and signature drinks, live music, and a chance to take part in a couple of spirited fundraising activities and tethered balloon rides. Guests will gather under the balloons as they inflate and begin to glow while enjoying the food, drinks and festivities. Following the Glow dinner, the AfterGlow dance party begins with Los Angeles based
Tariqh Akoni and his One Night Only Band, with a tribute to Stevie Wonder.
This is an extraordinary dance party, celebrating under the glow of the balloons. The experience is enhanced by watching visual images on the big screen behind the band. Tethered balloon rides for all guests are included, depending on weather conditions.
Please note that this is a non-smoking event. A waiver of liability must be completed prior to any balloon ride. Balloon rides are subject to weather and the discretion of the balloon pilots. 
Event Committee
Michael Armand Hammer, Honorary Chair Lin Aubuchon Ruth Ann Bowe Allison Brainard Mike Bryant Geri Carty Barbara De L'Arbre Mindy Denson Fred Kass, MD Chris Lambert, MD Mike Lazaro Pat McElroy Sonja Nelson Julian Nott Henry Rosas Marie Parker Beth Vos
THE EVENT IS SOLD OUT!
For news and updates: